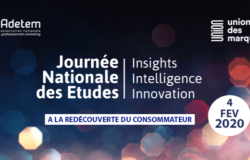 National Study Day
The JNE – Insights, Intelligence and Innovation, the annual meeting place for marketing and research professionals, sets out to rediscover the consumer! The JNE 2020 aims to highlight experiences of collaboration/studies in order to support companies in conducting more adaptive marketing, closer to the life of the plural consumer.
The JNE will also seek to answer the following questions:
– How to make information more intelligible?
– How can we be more predictive of tomorrow's consumers to better anticipate their behaviour?