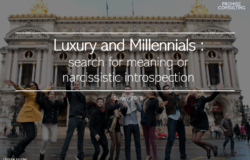 SUBSCRIBE TO OUR STUDY ON LUXURY AND MILLENNIALS: SEARCH FOR MEANING OR NARCISSISTIC INTROSPECTION?
Sustainability? Sustainable development? CSR? Many terms that attract the interest of brands and retailers. But finally, what are Millennials waiting for in terms of brand engagement? Our exploratory study available in subscription to a large sample of Millennials, future collaborators of the luxury brings precious lighting in…
Refining the attitude towards luxury in general
Qualifying what makes sense for a luxury brand
Characterizing a purchase that makes sense vs. a senseless purchase
To discover how the Millennials, in their relationship to luxury, are very different from the "clichés" that sometimes describe them, we are pleased to send you a copy of the order form for this hybrid, qualitative and quantitative study.
The subscription includes :
A 1h30 presentation by Philippe Jourdan, founding partner, and professor of the universities in your premises in the Paris region with your team involved regarding the subject
A summary note (16 pages)
A presentation support in PowerPoint format illustrated with many examples that have marked the minds of this generation (37 slides)