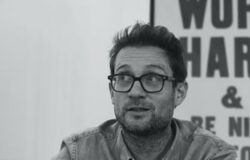 Luc Wise, The Good Company: "Great statements are useless if they are not followed through. Walk the talk, as the Anglo-Saxons say".
Published by The Good Proof, 4 January 2021
Elected "Advertiser of the Year" and his agency The Good Company founded in 2019 "Agency of Tomorrow" at the 41st edition of the Grand Prix des Agences de L'Année, Luc Wise gives hope. And for good reason, The Good Company is an agency with a very committed DNA, which promises to accompany the change of advertisers from all sides through the prism of responsible and engaging communication. In addition, this Good agency is launching a programme dedicated to the thousand possibilities of CSR: The Good Proof. To begin 2021, the editorial team wanted to know its vision of the market, its CSR roadmap, the challenges overcome last year and the objectives of the year to come. In your sights, good advice is available in interviews.
#PromiseConsulting #TheGoodProof