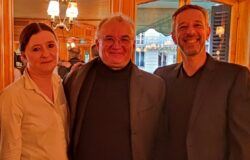 Flash hypnosis, or how to reveal the unsuspecting or semi-conscious motivations of the consumer?
Philippe Jourdan and Sylvain Flender from https://thenewanthropology.com/ presented their hybrid #deepinsight solution based on Flash Hypnose at our "breakfast" on November 15, 2022, at LaDurée https://www.laduree.fr/. This original approach, rewarded by the profession in 2020, makes it possible to explore consumers' unconscious and semi-conscious expectations and innovate without forgetting to "crack the codes."
For more information and to discover our case study, contact us: at valerie.jourdan@promiseconsultinginc.com!